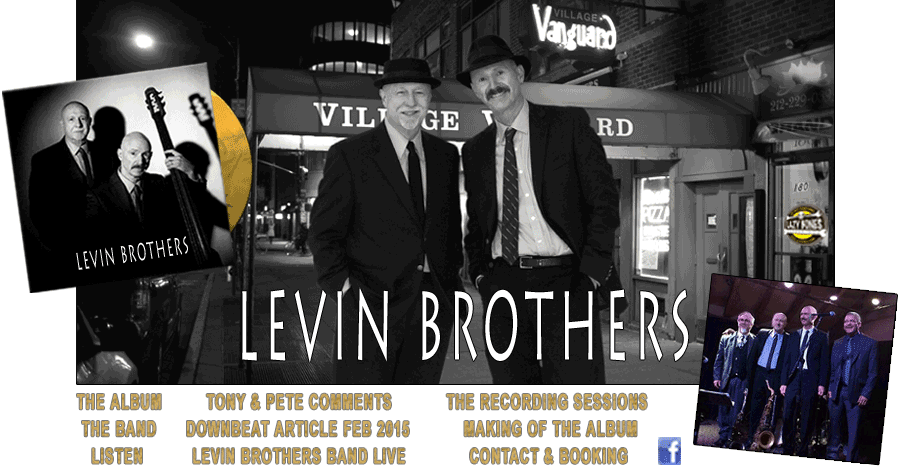 * You're listening to "Azalea" - a piece we recorded for the project that's not on the CD, LP or iTunes.
(If you're not hearing "Azalea" a) your speakers are muted, or b) you've got a very slow connection,
or c) your browser doesn't support background streaming, or d) you're don't want to hear it. Sorry. We tried.)
The LEVIN BROTHERS debut album was recorded and mixed in Woodstock, NY at NRS Studio during the winter and spring of 2014. NRS is owned by Fugs bassist and guitarist, Scott Petito, himself a highly skilled musician, award-winning recording engineer and producer. The album was mastered at Silvertone Mastering in Saratoga Springs, NY by award-winning mastering engineer Larry DeVivo.

* The card included with the LP is for a single digital download of 14 tracks from the CD; there are 2 other 'bonus' tracks available only on the physical CD.

January in our Catskill Mountains area, the snow keeps coming.
It didn't affect us in the studio; just made outdoor pictures a challenge.

Scott Petito at NRS Studio
did the engineering.
Scott is a great Jazz bassist
in his own right,



Jeff "Siege" Siegel

| | |
| --- | --- |
| Erik Lawrence | David Spinozza |

Steve Gadd

They all forgot to wear
suits and ties to the sessions!
What's up with that?

The most important piece
of gear in a recording studio,
'50s or otherwise ...
the coffee machine.

Tony, taking notes on his
1953 Mac laptop.

OK, here's where we get serious!

The mastering session
with Larry DeVivo
at Silvertone Mastering

We got the LP jackets before the vinyl itself was made. We had a fun couple of days
signing and numbering them for a cool limited LP edition and the CD edition.
2000 all together! We bought and used every gold Sharpie in the Hudson Valley!
Updated 01/07/17 All content © 2014, 2015, Levin Brothers