The Levin Brothers @ NAMM - January 2015
John Kelman's review for "All About Jazz" 12/11/14
"... its relaxed ambience breathes friendship and family
even as it pays tribute to the cool jazz that inspired both brothers"
Nick Deriso interviews Tony for "Something Else" 12/5/14
Ira Kantor's review for Elmore Magazine 11/6/14
"... a hearty portion of tightly cohesive songs that merge the best of Bach with the pace of bop."
Tony's interview with Shane Handler for Glide 10/23/14
Peter Thalen's review for Exposè 10/14/14
"... every single cut qualifies as a standout!"
Können Sie Deutsch lesen? Hier ist die Brüder Levin!
Wolfgang Giese's review for RockTimes 10/14/14
"... This is pure jazz, inspired by the music that the brothers
heard in the fifties and came to love."
The Daily Vault review 10/7/14
" ... there is a remarkable purity and innocence to this music. THE LEVIN BROTHERS manages to be both serious and playful without ever losing the passion and edge that comes from pairing two masters of their instruments playing a style of music they both love. A terrific album not just for fans of classic jazz, but for fans of music, period."
Jazz Times review 10/5/14
"... a player from the Jazz league has teamed up with one from the Progressive league and they both show just how they can swing. 'Cool' doesn't come close to fully describing this album."

"We grew up in Brookline, Massachusetts, a suburb of Boston, where we were trained in Classical music from a young age. But we also loved the 1950's recordings by jazz bassist Oscar Pettiford and jazz French horn player Julius Watkins; and those have remained influential, even as we went on to other playing. The catchy melodies, deep grooves, and tight solos made that music memorable, and it's been percolating for years for us to do an album of our own in that style.

"The two of us have crossed musical paths many times over the last decades, having toured together with Paul Simon, and played in each others groups and albums; but we've never done a Levin Brothers album 'til now, and it's pretty special for us.

"After writing material for it over the last few years, we invited outstanding players familiar with the musical territory to join in - guitarist David Spinozza, sax player Erik Lawrence and drummer Jeff Siegel. Steve Gadd appears as a special guest on the album, playing drums on two songs, "Bassics" and "Fishy Takes A Walk."
(* Tony and Steve's history dates back to their days in school together, followed by a lot of albums and tours.)

"The sessions took place at Scott Petito's NRS Studio, in the Woodstock area where we live. The material is all our own, all new compositions except the lovely King Crimson song, "Matte Kudasai." Because we kept the songs short, there was room for a lot of material on this release; the CD has 14 tracks plus 2 exclusive bonus tracks.

"Another long time wish that's come true with this release - a vinyl LP version of the music. We're told that 'Vinyl is coming back' and we're ready for that. In pre-orders, we're offering a special limited edition LP (1,000) with unique colored vinyl, each signed and numbered by us. The LP has 12 tracks, with a card enclosed to digitally download the CD's 14 tracks. We'll also be autographing the first 1,000 CD's ordered.



August 1, 2014
Woodstock, NY

August 12, 2014: "LEVIN BROTHERS" on CD and Limited Edition vinyl LP can be pre-ordered online from Lazy Bones Recordings via CCNow.

September 9, 2014: "LEVIN BROTHERS" officially released by Lazy Bones Recordings on Compact Disc. The CD, in addition to the 14 basic tracks, will include 2 bonus tracks that are not available anywhere else. The first 1,000 CDs will be individually signed by Tony & Pete.

September 16, 2014: "LEVIN BROTHERS" officially released by Lazy Bones Recordings on vinyl LP. The 12" LP is a Special Limited Edition, pressed in gold vinyl with smoky swirls. (image below) A digital download card is included for the 14 tracks from the CD release. 1,000 Special Edition LPs will be individually signed and numbered by Tony & Pete.
Online sales by Lazy Bones Records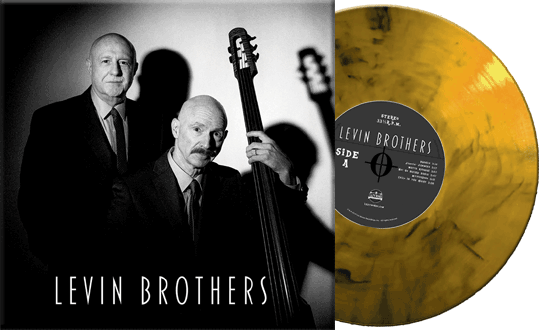 "This album's about a few things. It's a long overdue 'first record' by two brothers who've been making records individually for ... well, a lot of years! And it's a return home, for me and Pete, to the music we first shared as kids - the 'cool jazz' of the 50's. So it's been a labor of love to write pieces in that style, woodshed my cello playing, so as to use it as a lead instrument, and put together a record with melody based songs, short solos, and, hopefully, the chemistry of musicians who play like ... like brothers!

"You'll see us in suits in the session photos - that was an effort to help be immersed in the genre of the music. Back in the 50's, I guess everyone put on a suit and tie to go to work, even jazz players. It took awhile to get used to, but was actually kind of fun. Old school!

"We think this album will appeal to anyone who likes instrumental music, and it's a special treat to be able to offer it in vinyl (with digital download card, of course) as well as CD."

"Jazz musicians share a common trait; we're standing on the shoulders of a long succession of players, going all the way back to Louis Armstrong. Their spirit is alive in the fabric of everything that we play. It's only natural that, periodically, we want to revisit our roots.

"Last year, Tony called me to say he was getting into jazz cello and did I have time to get together and play. His idea was to revisit music we listened to as kids, soulful jazz with melodies we could still scat after 50 years. We wrote some tunes, jammed, wrote some more, and talked about doing local trio gigs. It was a natural progression to ... hey wait, let's record this!

"Style-wise, Tony and I have had divergent careers, although our musical paths have crossed many times, backing other artists and playing in each other's bands. But this is our first time developing a project together. With our common roots, similar music training and decades of recording experience, getting our minds in sync with the concept and the plan was easy. In the Woodstock, NY community where we live, we're surrounded by great recording studios and great musicians. Now, with the enthusiastic support of an indie label, we're rockin'! (Well, swinging actually.)"

The Levin Brothers debut album was recorded at NRS Studio in Catskill, New York, just outside of Woodstock, NY. The studio is owned by former Fugs bassist and guitarist, Scott Petito, himself a highly skilled musician and award-winning recording engineer. Scott recorded and mixed the album during the winter and spring of 2014. In June, Tony and Pete brought the project to Silvertone Mastering in Saratoga Springs, NY where the award-winning mastering engineer Larry DeVivo applied the finishing touches.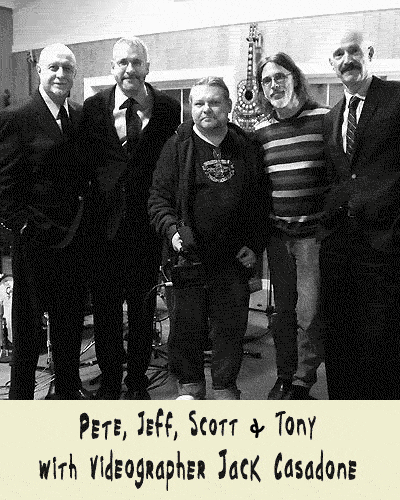 LEVIN BROTHERS
Produced by LEVIN BROTHERS and SCOTT SCHORR
Recorded January & February, 2014
Recorded and mixed by SCOTT PETITO at NRS STUDIO, Catskill, NY
Mastered by LARRY DEVIVO at SILVERTONE, Saratoga Springs, NY
Vinyl master by CAMERON HENRY at WELCOME TO 1979 STUDIOS
Steve Gadd recorded by CLARKE RIGSBY at TEMPEST RECORDING
PETE LEVIN: piano & organ
TONY LEVIN: cello & bass
ERIK LAWRENCE: tenor saxophone
DAVID SPINOZZA: guitar
JEFF "SIEGE" SIEGEL: drums
STEVE GADD: drums on "Bassics" & "Fishy Takes A Walk"
Graphic design by EDWARD AISH at PRO-VISION
Cover photo by DION OGUST
Video photography by JACK CASADONE
Liner notes by ANIL PRASAD
All songs written by Pete & Tony Levin, except "MATTE KUDASAI", by Adrian Belew, Bill Bruford, Robert Fripp & Tony Levin
All songs published by CAT FROM GUATEMALA MUSIC (ASCAP), except "MATTE KUDASAI" published by EDITIONS EG (ASCAP) and UNIVERSAL MUSIC CAREERS (BMI)
Tony plays NS DESIGN Bass and Cello
Pete plays NORD keyboard instruments
CD
With 2 CD-exclusive
bonus tracks

Limited Edition (1000)
12" gold vinyl LP
signed & numbered
w. digital download card

BUNDLE: CD, signed & numbered
Limited Edition LP,
and download card

For live performance inquiries
contact Leonardo Pavkovik
at MoonJune Music


Lazy Bones Recordings is an indie label and publishing company founded by music producer, Scott Schorr. Its focus has always been on the music, not the hype or latest trend.

Lazy Bones works with the finest indie bands and singer/songwriters and fosters a creative environment to produce first rate recordings. With few exceptions, Lazy Bones works with its artists from the inception of the recording through completion of the Master. Their goal: to work with the potential "catalog" artists - one that creates numerous, meaningful recordings that will stand the test of time. Once done, Lazy Bones licenses the artists' songs to the film, television and advertising world.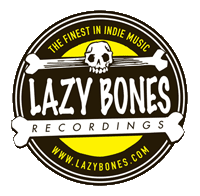 For further info, media or licensing inquiries,
contact Scott Schorr

(310) 281-6232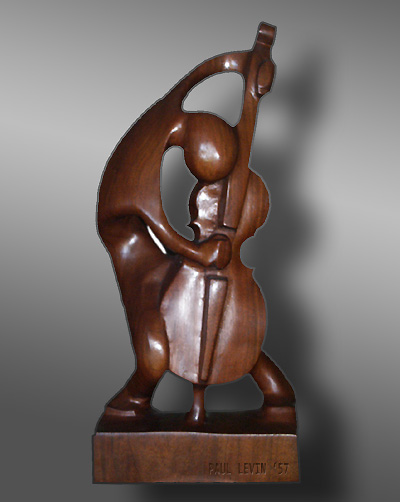 BASS PLAYER by Paul Levin (Tony & Pete's dad) 1957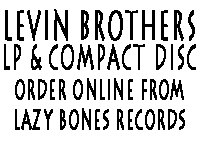 CD
With 2 CD-exclusive
bonus tracks

Limited Edition (1000)
12" gold vinyl LP
signed & numbered
w. digital download card

BUNDLE DISCOUNT: CD, signed & numbered Limited Edition LP,
and download card
* The card included with the LP is for a single digital download of 14 tracks from the CD; there are 2 other 'bonus' tracks available only on the physical CD.

YOU CAN ALSO FIND THE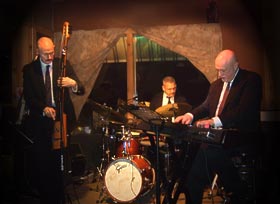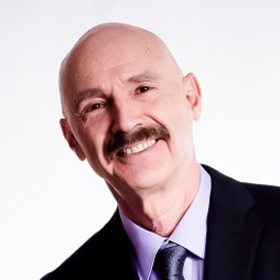 Since graduating from the Eastman School of music, Tony has become the bass and Chapman Stick voice for Peter Gabriel and King Crimson. In addition, he has played on notable recordings for John Lennon, Pink Floyd, Lou Reed, Alice Cooper, Dire Straits, Carly Simon, Judy Collins, and many others. Tony has major jazz credentials, having worked with Buddy Rich, Steps Ahead, L'Image, Gary Burton, Chuck Mangione, and Herbie Mann. He currently records and tours with Peter Gabriel, King Crimson, Stick Men, and The Crimson ProjeKCt.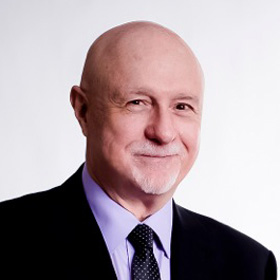 As a French Horn major, Pete earned a master's degree from the Juilliard School. In the early '70s he switched to keyboards, becoming a synthesizer specialist in the New York City recording studio scene. Over the years, he has graced hundreds of jazz and pop recordings and performances by the likes of Miles Davis, Gil Evans, Jimmy Giuffre, Dave Brubeck, David Sanborn, Joe Louis Walker, Don Elliott, Freddie Hubbard, Annie Lennox, Charles Mingus, Jaco Pastorius and Wayne Shorter. He currently records with his organ trio with Dave Stryker and Lenny White.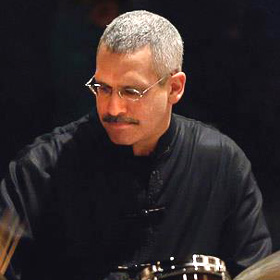 Drummer/Composer Jeff Siegel is a veteran of the New York Jazz Scene and has worked with a virtual who's-who of jazz artists. A member of Sir Roland Hanna's Trio from 1994-99, Jeff has performed and recorded with jazz legends including Ron Carter, Kenny Burrell, Jack DeJohnette, Benny Golson, Frank Foster, Helen Merrill and Mose Allison.
Special guest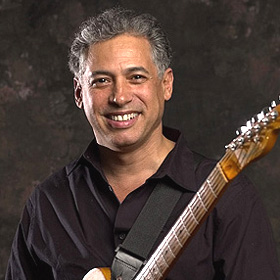 An in-demand New York studio guitarist for decades, David has the unique credit of having worked with three of the former Beatles - Paul, John and Ringo. (Not at the same time.) He produced James Taylor's album Walking Man, has recorded with Billy Joel, Dr. John and Paul Simon and was a member of the Saturday Night Live Band from 1980-82. In 2009, David reunited with his band "L'Image" with Mike Mainieri, Warren Bernhardt, Tony Levin and Steve Gadd.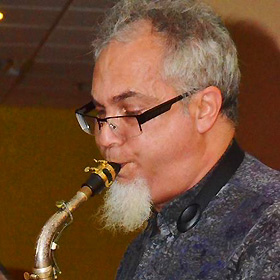 The son of jazz saxophonist and rock guru Arnie Lawrence, Erik is a longtime member of Levon Helm's Midnight Ramble Band. His innovative band "Hipmotism" features Sex Mob's slide trumpet player Steven Bernstein. Equally proficient on flute and saxophone, Erik's career as a sideman has included work with Buddy Miles, Chico Hamilton, Joan Osborne, The Spin Doctors and master Tibetan flutist Nawang Khechog.
Special guest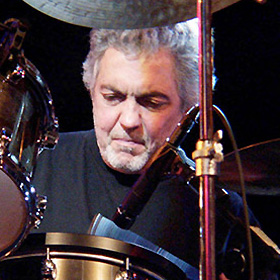 One of the most in-demand drummers in the world, Steve has worked with an incredible array of artists, including Joe Cocker, Stevie Wonder, Paul Simon, Eric Clapton, James Taylor, David Sanborn, Peter Gabriel, Chick Corea, Aretha Franklin and "Stuff", a band he co-led with pianist Richard Tee. Friends and colleagues since college, Steve and Tony were Chuck Mangione's first rhythm section.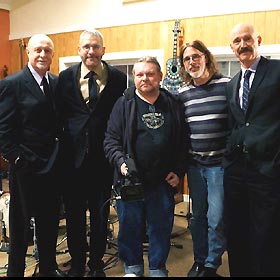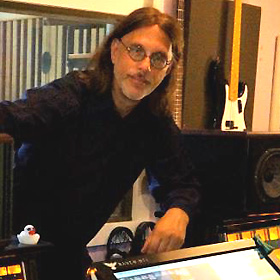 Bassist for the legendary 60's punk band, The Fugs, Scott is a multi-talented musician with extensive performance credits. A Grammy-nominated recording engineer and producer, Scott owns and operates NRS Recording in Catskill, NY.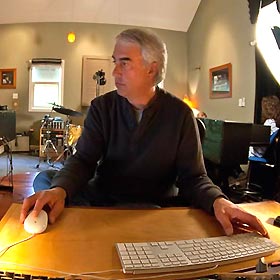 An award-winning engineer based in the San Francisco Bay area, Larry relocated to Saratoga Springs, NY and launched Silvertone Mastering, a dedicated mastering facility that fills a big void in the Upstate New York region. For Larry, Silvertone was the next logical step in his personal quest for sonic audio perfection.